Marine Radios
Marine Rescue NSW provides continuous radio coverage along the NSW coastline from Point Danger in the North to Eden in the South.
Marine radio operators in our network of Search and Rescue Coordination Centres and Marine Radio Bases monitor marine radio frequencies around-the-clock to ensure boaters in trouble receive help – fast.
Our radio services include:
24/7 marine distress monitoring along the entire NSW coastline.
Rapid emergency response activation and coordination.
The State's only Log On service to keep watch while you're on the water. Make sure you always Log On when you head out and Log Off when you return. If you're not back when expected, we'll start searching for you.
Weather forecasts and warnings at regular times or any time upon request.
Radio checks to help you know the strength and clarity of your radio signal.
Marine radio training courses. See Radio courses.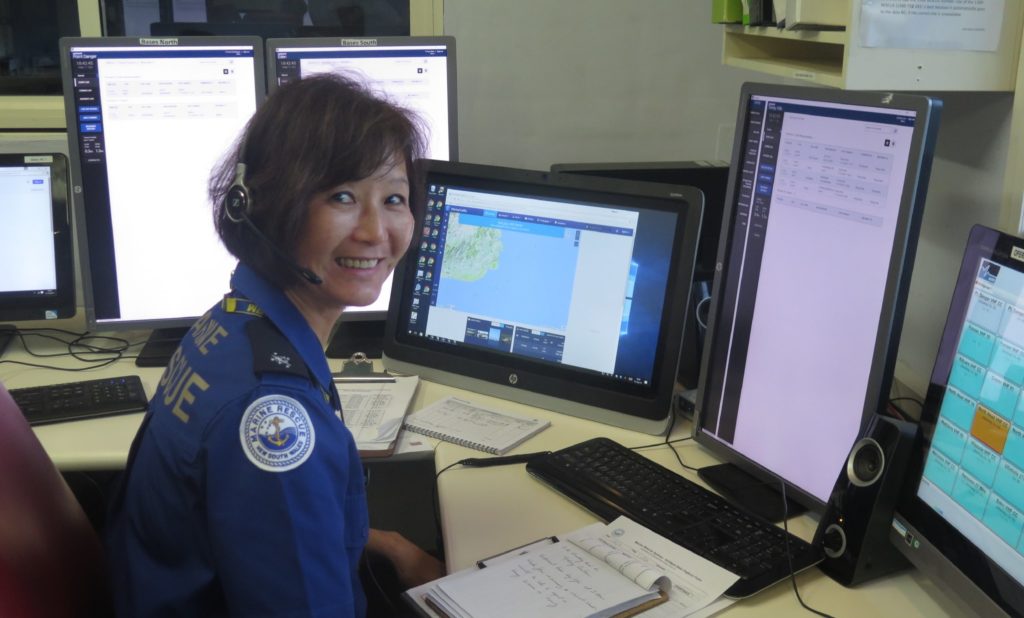 Marine radios and range
VHF
VHF is the choice for safer boating. Newer technology, it offers greater range, clearer reception with less interference from static and help at the push of a button. Marine Rescue NSW recommends that boaters make the switch from the older 27MHz technology.
The effective range of a VHF radio is up to 20 nautical miles and often much further, depending on the elevation of land-based receiving stations. A VHF radio with Digital Selective Calling (DSC) and GPS functions will provide you with even greater safety and convenience.
MRNSW radio bases monitor both VHF and 27MHz marine radio channels along the NSW coastline but a VHF radio will maximise the likelihood of your call being heard around-the-clock and of help arriving swiftly.
Learn more: Australian Communications and Media Authority at acma.gov.au or the ACMA Youtube channel.
27MHz
A 27MHz radio is a basic entry level marine radio with an effective range of 10-15 nautical miles, usually limited to "line of sight". This frequency is highly susceptible to static and has significantly reduced radio coverage compared to VHF.
MF/HF
Designed for offshore and overseas cruising, the more costly MF/HF radio has an effective range of up to 200 nautical miles but can reach considerably further depending on conditions, antennas and frequencies used.
MF/HF distress frequencies are monitored by a commercial contractor, Kordia, engaged by NSW Maritime rms.nsw.gov.au/maritime
Network
MRNSW owns, operates and maintains the NSW marine radio network used by recreational boaters, other emergency services and a range of commercial boaters.
The organisation has invested heavily in upgrading marine radio network infrastructure and radio base equipment in recent years, particularly on the Northern Rivers, Mid North Coast and the Far South Coast. This has eliminated blackspots in reception and provided consistent marine radio coverage along the coastline, extending 20 to 30 nautical miles out to sea, significantly improving the safety of boating offshore and on enclosed coastal waters.
The network of Marine Rescue NSW Search and Rescue Coordination Centres and Radio Bases is connected via a central communications backbone, linking our radio bases over the internet and ensuring that radio traffic to all bases can be monitored remotely should any facility be off the air.